INTERPLANETARY MULTIBODY MISSION DESIGN AND VISUALIZATION
By weaving visualizations into the design process, DSTE allows intuitive selection of orbits that satisfy mission constraints. Augment your design process by exporting solutions to your high-fidelity mission design and optimization tools.
DESIGN FOR ANY PLANET-MOON SYSTEM
Fully configurable integration
Polar and 3D design
Multidimensional trajectory Poincaré maps
NEAR EARTH OBJECTS
Near-Earth Object (NEO) intercept
Asteroid rendezvous and station keeping
LIBRATION POINT ORBITS AND TRANSFERS
Generate libration point orbit families
Manifold orbit design
Visual transfer design
DENSE VISUAL SEARCH
Visually filter millions of points
Rapidly isolate solutions your mission needs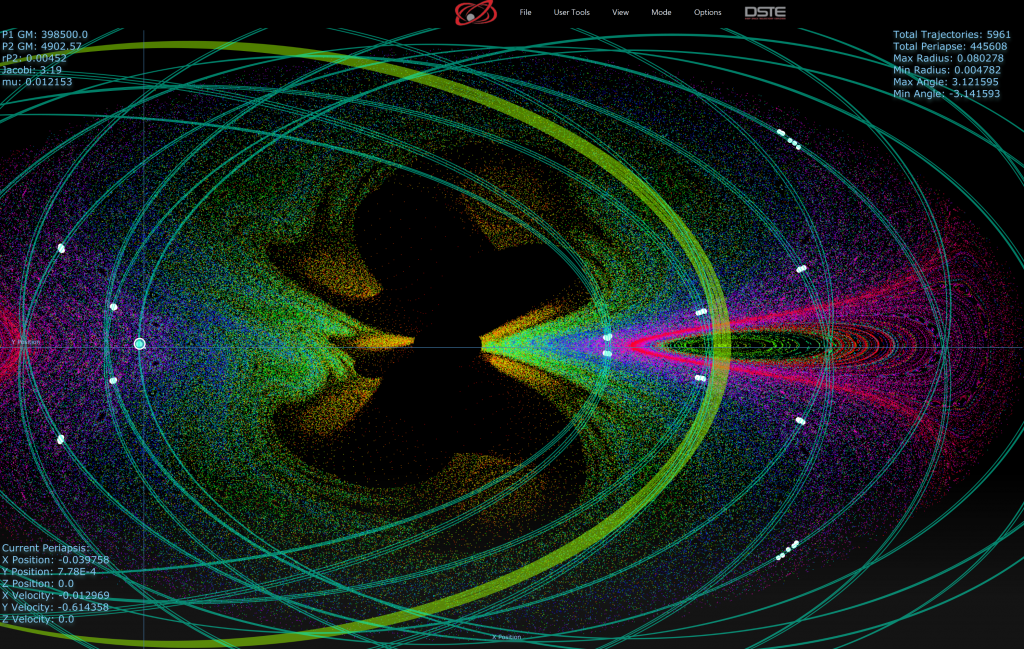 FAST DATA GENERATION
DSTE is built for modern systems, dynamically parallelizing across available cores to provide quick trajectory integration and Poincaré map generation.
DSTE renders millions of linked data points onscreen using cross-platform, hardware-accelerated technology. Multiple 2D and 3D views combine to respond to the user's actions. Click, drag, touch and swipe directly with orbits and maps to visually identify the ideal solution for your mission requirements.
VISUALLY INTUITIVE TRAJECTORY DESIGN
The complicated task of designing spacecraft trajectories and transfers in the presence of multiple gravitational bodies is simplified by DSTE.
DSTE is designed with one supreme principle: Let the data be the interface. The user's experience is enhanced through visual tools that interweave their experience and intuition directly into the design space.
Data visualization and filtering allow quick, intuitive identification of orbits that are not immediately apparent using other techniques. The incorporation of multibody dynamics allowsdiscovery of trajectories that take advantage of the complex gravitational environment to achieve lower maneuver costs.
Exploration of the design space yields families of trajectory solutions that satisfy mission constraints, allowing fast analysis of alternatives and quick reaction to changing requirements.