a.i. solutions is dedicated to empowering our employees, who consistently provide SPOT ON performance for our customers. Throughout 2019 we will be showcasing our employees and their dedication and commitment to our Core 4 Values: Customer, Team, Company, and Self. As a company, we are committed to providing a diverse work environment for all employees that is filled with opportunities for professional and personal development. Come see how our employees bring to life the innovative solutions that make Space Exploration possible.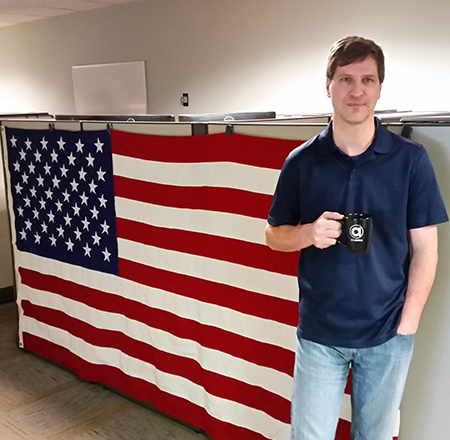 Steven Narvet, Colorado Springs, CO
Steven Narvet is an Air Force Development Programs Manager at a.i. solutions who oversees the personnel and management of all Air Force development programs. He is an advisor for systems architecture and technology development, processing algorithms, interfaces and analysis. He is also an integral part of a.i. solutions business development activities including capture management, proposal development, and customer relations management. Steven has been with the company for 11 years, starting in April of 2008.
How did you first become interested in the space industry?
"My interest in the space [industry] began when I was offered my first job in the industry. My background is in physics and statistics, so I was never really drawn to space as something to make a career of. However, it turns out that a statistical data analysis background is quite handy in the fields of orbital analysis and space situational awareness."
What drew you to a.i. solutions? How has what attracted you changed since becoming an employee?
"My first job in the defense industry was with a large defense contractor on a large satellite program, and after 11 years I was just ready to change things up a bit. I had a few friends who were working for a.i. solutions at the time, and so the opportunity just presented itself. I figured that working for a smaller company would allow for greater career opportunity and exposure to more diverse work (and it certainly has). Glad to say that the dynamic technical environment has not changed much in the last 10 years."
Briefly describe your career working in the space industry.
"I started my career in the industry as mission controller on the Milstar program performing mission planning and launch operations, then moved on to become part of the initial launch team for the Advanced EHF program. After those 11 years of operations work, I came to a.i. solutions and have since worked on a variety of projects involving systems engineering, statistical data analysis, space situational awareness, and software development. Having a background in space operations has been an asset in that it provides a user's perspective when designing software systems."
Briefly share any current or past projects that you enjoyed working on and why.
"A few years back I was involved in the design of launch analysis software for the Air Force. This was an interesting project to me because of the volume of data fusion taking place over the course of a space launch, from booster preparation through on-orbit threat assessment. It was a challenging project to develop algorithms to assess a launch based on combinations of data from initial intelligence on a potentially unfriendly launch site, launch indications from OPIR satellites, tracking by ground and early warning radars, and eventual determination as to whether an object might pose a threat to friendly assets."
What is your favorite part about working for a.i. solutions?
"The people, the generally casual environment, and the variety of technical work going on. There's really no shortage of new technical challenges to employees who want to pursue them."
How has a.i. solutions helped you in your career development?
"a.i. solutions has been excellent for career development simply due to exposure to different customer organizations and the variety of the work. Additionally, a.i. solutions offers several formalized training programs to allow employees to develop their skillsets along leadership, business development, and technical tracks."
What advice do you have for prospective a.i. solutions candidates?
"At whatever stage of your career you may be, working at a.i. solutions is a good experience. The company employs people with diverse backgrounds bringing different perspectives to solve problems."