The MSIS-00, MSIS-90, and MSIS-86 atmospheric models use a combination of F10.7 flux and Ap data to determine atmospheric density as a function of geopotential height. For more information on the MSIS models courtesy of the Naval Research Laboratory, see this website: NRL Mass Spectrometer, Incoherent Scatter Radar Extended Model.
This page is divided into the following sections:
Enabling MSIS Drag Modeling
---
The default atmospheric density model used for modeling the Earth's atmosphere is the Analytic Density Model. To enable an MSIS Density Model for a Spacecraft, edit the Spacecraft, proceed to the Force Model page, and select Earth from the list of celestial bodies as shown in the image below.
Then ensure that "MSIS-2000", "MSIS-90", or "MSIS-86" is selected in the Density Model drop-down menu.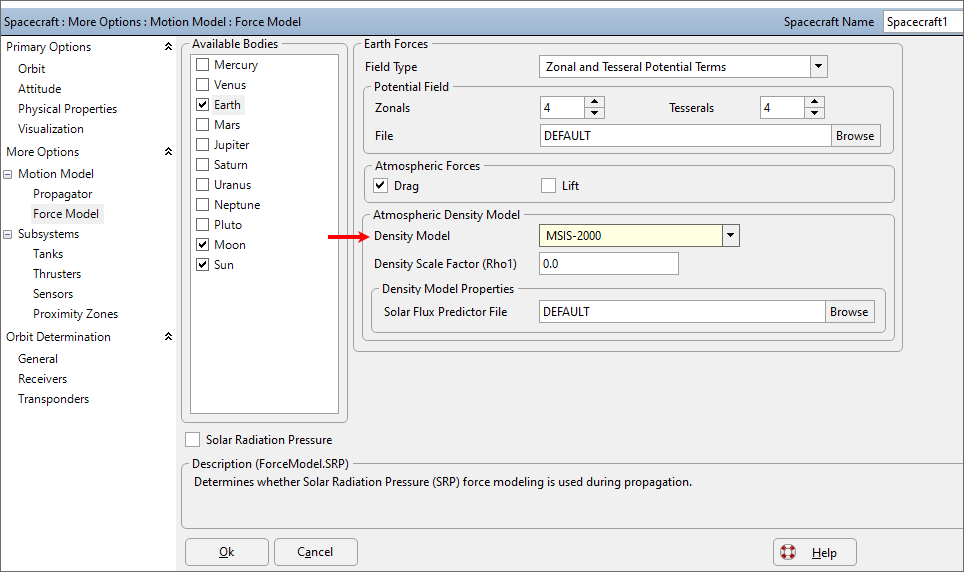 To enable MSIS atmospheric density modeling via FreeFlyer script, use the following syntax:
Alias fm = (Spacecraft1.Propagator AsType RK89).ForceModel; // This alias is used to shorten the script examples below
fm.DragType = 4;
Where the DragType can be one of the following:
•1 for Analytic density
•2 for Harris-Priester density model
•3 for Jacchia-Roberts density model
•4 for MSIS-2000
•5 for MSIS-90
•6 for MSIS-86
Setting the Solar Flux Predictor File
---
By default, FreeFlyer uses the "Jacchia.dat" data file for atmospheric modeling, but this file will NOT work with the MSIS models. You must specify a different file using the "Solar Flux Predictor File" file browser shown in the image above or via FreeFlyer script using this syntax:
fm.DragDataFile = "F10_7_Ap_Ascii.dat";
Where "F10_7_Ap_Ascii.dat" specifies the path and filename of the predictor file. There are two predictor files included with FreeFlyer, F10_7_Ap_Ascii.dat and F10_7_Ap_Ascii_long.dat. For more information about these files, see the MSIS Model Files reference.
See Also
---
•ForceModel Properties and Methods
•Solar System settings that affect Spacecraft Propagation