>
>
>
>
a.i. solutions, Inc. Successfully Appraised at CMMI Maturity Level 3 for Development
a.i. solutions, Inc. Successfully Appraised at CMMI Maturity Level 3 for Development
June 25, 2018

Contact:
Angelica DeLuccia
Griffin Communication Group
Ph: (321) 506-2183
angelica@griffincg.com
Lanham, MD – a.i. solutions, Inc., today proudly announces that it has successfully been appraised at CMMI Maturity Level 3 for Development. This is the third consecutive successful CMMI appraisal, dating back to our first appraisal in 2013. The 2-week external lead appraisal was conducted May 14-25, 2018, at the Lanham, MD, facility and was performed by ACE Guides, LLC.
---

Appraisals are certified through the CMMI Institute.
---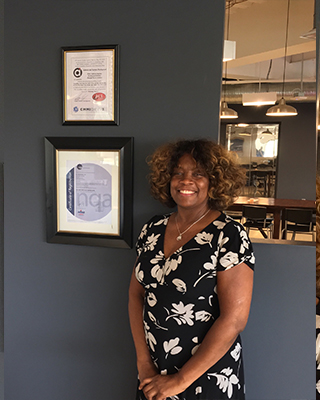 a.i. solutions' Quality Manager, Judy Tucker, displays the company's quality certifications received in 2018.
CMMI for Development (CMMI-DEV) Version 1.3 is an improvement framework for developing better products and services. The Maturity Level 3 (L3) rating demonstrates a.i. solutions' continued ability to support the nation's space and defense agencies, producing products and services that span flight dynamics, space operations, ground system software, information technology, and systems engineering for launch vehicles, missiles, and satellites.An L3 rating reflects the use of well-defined, widely accepted best practice standards and procedures. a.i. solutions established and continuously improves its organizational set of standard processes, which is the basis for L3.
The keys to this successful appraisal were teamwork and preparation. The diligent work and dedication from the entire company resulted in the development and implementation of a full CMMI L3-compliant Quality Management System.
About a.i. solutions
Founded in 1996, a.i. solutions is a small-business provider of innovative mission-critical products and services that enable uninterrupted and reliable access to space. a.i. solutions' services and products span space mission engineering, missile defense systems assurance, launch vehicle services, cyber and information assurance, and the FreeFlyer® astrodynamics software. For additional information, please visit www.ai-solutions.com and @ai_sol on Twitter.