View the a.i. solutions Booth
Technology Spotlight
Providing Space Situational Awareness Support for Commercial, Civil, and Defense Space Programs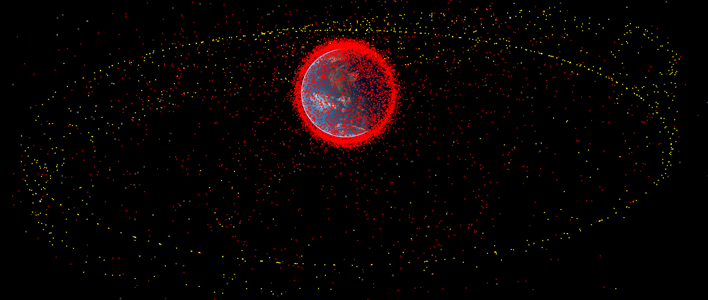 FreeFlyer simulation of the current space catalog

Schedule a meeting with an a.i. solutions' business development or capture professional to learn more about our products, services and opportunities during the 33rd Space Symposium.
The space catalog will be getting bigger in the next few years – much bigger. Not only will there be a significant increase in the total number of operational satellites, but next-generation radar systems will soon allow us to track smaller and smaller objects down to just a few centimeters in size. Maintaining advanced space situational awareness (SSA) capabilities is therefore essential for supporting tomorrow's growing space catalog of 200,000+ objects.
For more than 20 years, a.i. solutions has provided capabilities that support SSA and enable continued safe access to space. Our FreeFlyer® software has been used by more than 225 space missions to date, and our FreeFlyer Graphics Processing Unit (GPU) technology is operationally proven to provide SSA capabilities on the largest of scales.
Having the right tools makes all the difference. Visit us at booth 528 during the 33rd Space Symposium April 3 – 6, 2017 in the Boeing Exhibit Hall to learn how a.i. solutions can help to ensure your mission's success.
Tomorrow's Space Catalog – And the Tools That Can Support It Today

The space catalog is expected to reach200,000+ objects once the USAF Space Fence radar system becomes operational.

More than 13,000 new satellites are planned for launch in the next decade – this isNINE TIMESthe number of total active satellites today.

FreeFlyer GPU technology modelsMILLIONSof space objects simultaneously and perform continuous full catalog conjuction screening.
FreeFlyer GPU at a Glance
Demonstrated high fidelity orbit propagation of a simulated space catalog of 15,000,000 objects on a single GPU.
All vs. All conjunction screening for the existing space catalog performed hundreds of times per second.
Monte Carlo Probability of Collision calculated for individual conjunctions.
Operationally deployed on the NASA Magnetospheric Multiscale (MMS) mission in 2015 to perform daily intra-constellation conjunction assessment.